Transportation Division Board of Appeals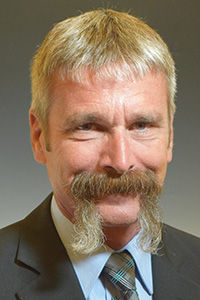 Tim Flynn, of Local 832 (Superior, Wis.), was hired as a conductor for BNSF in March 2005 and was promoted to engineer in November 2008.
He is the current assistant general chairperson of General Committee GO 386 (former Great Northern, former Montana Western Railway Co. and former Spokane Portland & Seattle) and trustee of Local 832. He was voted to the SMART-TD Board of Appeals at the Second TD Convention on Aug. 11, 2019.
Flynn served as vice local chairperson of LCA 386 from 2006 to April 2007; local chairperson of LCA 386 from May 2007 – May 2019; 1st vice chairperson for GCA 386 from February to December 2015; secretary-treasurer of Local 832 from February 2012 to August 2013; and as his local's delegate to the 2011, 2014 and 2019 conventions.
A U.S. Army veteran, Flynn served from 1987 to 1991 in Operation Desert Storm.