Transportation Division Alternate Vice President — Bus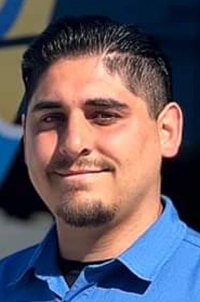 James Sandoval, alternate vice president of the SMART-TD Bus Department, was born Oct. 10, 1990, and has been a bus operator at the Santa Cruz Metropolitan Transit District for more than a decade.
Brother Sandoval has been intensely engaged with labor efforts after joining SMART-TD as a member of Local 23 in Santa Cruz, first as a local officer and then at a national level.
He assumed his first officer roles as general chairperson of GCA-SCM, alternate legislative representative and local chairperson of LCA-SCM in January 2019. In February 2022, he assumed the position of Local 23's legislative representative.
Brother Sandoval joined the California State Legislative Board as a legislative chairperson in June 2022, became an organizer in January 2021, and in August 2022 became alternate vice president of the Bus Department serving the western portion of the nation.
In addition to holding an associate degree from Cabrillo College, Sandoval serves as a board vice president representing Santa Cruz County on the Monterey Bay Central Labor Council as well as serving as a delegate to the council.
He lives in Royal Oaks, Calif., with his wife, Monica, and children James and Melanie.