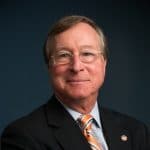 WASHINGTON, D.C. – The Association of American Railroads (AAR), leaders from its member railroads and economic experts today urged federal regulators to beware of upending numerous national economic goals if they choose to pursue re-instituting revenue caps on freight rail companies.
Speaking before a Surface Transportation Board (STB) hearing on railroad revenue adequacy, AAR President and CEO Edward R. Hamberger told the Board that misapplying regulations would have far-reaching impacts on the freight rail industry's ability to sustain the billions of private funds spent by railroads each year to build, maintain and upgrade the nation's 140,000-mile rail network.
"As you take up the issue of revenue adequacy, you are painting on a much, much larger canvas than just the inside of this room," Hamberger said. "What you are considering and may decide here in this hearing room a stone's throw from the U.S. Capitol will ripple across the economy and ultimately impact most every American."
Hamberger, and others testifying before the Board, ran through many examples of how earning sufficient revenues has allowed railroads to make massive private investments in rail infrastructure – nearly $29 billion in 2015, and $575 billion since 1980. This is in contrast to other modes of transportation, such as highways, which are funded by taxpayers.
Regulation of railroads' overall revenue levels would run counter to Congress's goals in the Staggers Act of 1980 that partially deregulated the freight rail industry to allow railroads to earn sufficient revenue to meet their long-term needs without having to rely on the federal government.
As Dr. Roger Brinner, chief economist with SandPointe, LLC testified, the concept of revenue adequacy should be a goal, and not a directive to constrain revenues; railroads should not be penalized for improved financial performance.
"Now comes a handful of interest groups that want you to cut their transportation costs by direct government intervention at the expense of the greater good. Let's call it what it is: they want you to institute a regime of wide ranging price controls on freight railroads," Hamberger testified.
Hamberger outlined the many national goals that would be at risk, should the STB decide to relapse into 1970s-era regulatory policies. Doing so, he noted would undermine the industry's ability to: continue to improve rail safety, efficiency and reliability; increase U.S. exports; support U.S. energy independence, and effectively provide a healthy rail network relied upon by millions of daily Amtrak and commuter rail passengers.
"Freight rail success today is due to the foresight of the government leaders in 1980 who unleashed the transformational power of the market place through partial deregulation," Hamberger said. "Subsequent federal involvement in rail economics both in the legislative and regulatory arenas honored the belief that a developed nation requires a top-notch freight rail system and that system is best provided by private companies in control of their resources rather than through the government."