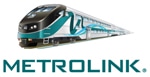 A Metrolink train derailed early Tuesday, Feb. 24, in Oxnard, Calif., after slamming into a truck that was in flames. Twenty-eight people were injured, four critically.
The driver of the truck fled the scene and was taken into custody, officials said.
The train was going 79 mph near the crossing at 5th Street and Rice Avenue at about 5:40 a.m. when its engineer spotted the fiery truck, said Sergio Martinez of the Oxnard Fire Department.
Read the complete story at the Los Angeles Times.