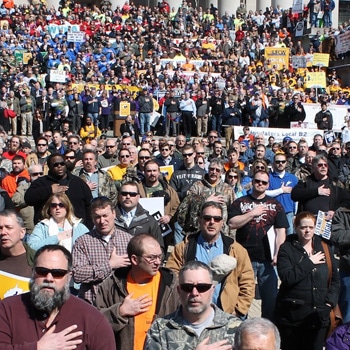 Earlier this year, Republicans in the West Virginia legislature voted to turn the state into a Right-to-work state.
This week organized labor got its first shot at fighting back.
The AFL-CIO and 10 other union groups successfully attained an injunction that blocks the state's Right-to-work law, which took effect earlier this summer. The law required unions to extend benefits to all workers within a workplace, even though who do not pay their fair share.  Unions argued that this was an unfair taking of property and resources.
And a Kanawha County judge ruled that Unions did enough to prove that the law could hurt workers, stating that enforcement of the law could "cause irreparable harm to unions and union workers." :
Proponents of the Right-to-Work measure claimed it would stimulate new jobs in the state, yet, six months later, not a single new job has come back to the state.
Republicans in the state legislature intend to appeal the injunction. No date has been set for any future hearings.