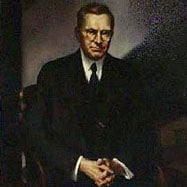 The confirmation by the U.S. Senate of Boston Mayor Marty Walsh, a member of the Laborers' Union, to be President Joe Biden's labor secretary ends a nearly 45-year absence of having a union member serve as the head of the U.S. Department of Labor.
The last unionist to serve as U.S. labor secretary was W.J. Usery Jr., an appointee of President Gerald Ford who was a member of the International Association of Machinists and Aerospace Workers. He led Ford's DOL for about a year starting in 1976.
There had been a time when a nearly five-decade gap of having a union member be the top labor official in a president's Cabinet would have been unusual.
When the DOL was established in the early 20th century, it was normal practice that an organized labor leader would be tapped to lead the agency overseeing labor relations. The first two U.S. secretaries of labor were union members, and in 1930, one of SMART-Transportation Division's predecessor unions saw one of its leaders ascend to the top of the DOL during one of the darkest economic times our nation has known. As the third secretary of labor, the Brotherhood of Railroad Trainmen's William N. Doak helped establish a lasting legacy.



Doak was born Dec. 12, 1882, in Wythe County, Va., and began a railroad career as a switchman with Norfolk and Western near the turn of the century. According to a biography published on the Library of Virginia's website, he joined BRT in 1904 and was elected a general chairperson in 1908.
In 1916, Doak was elected BRT vice president and became the organization's national legislative representative in Washington, D.C. He continued to work on railroad labor relations matters including serving on adjustment boards, arguing before congressional committees and adjusting how rail negotiations were handled on a regional level. The National Mediation Board (NMB) was established in the 1920s while Doak had an active presence on Capitol Hill for the BRT, and he no doubt had a hand in establishing how the NMB operated.
In 1922, he was elected first vice president and was elected assistant to BRT President William Granville Lee in 1927. Doak served as acting BRT president for a time while Lee traveled abroad and also unsuccessfully ran for political office on three occasions, including for Virginia State Senate, the U.S. House of Representatives and the U.S. Senate.
In 1928, Doak was elected to a combined post of national legislative representative and editor of the Brotherhood of Trainmen's publication, The Railroad Trainman. A personal friend of Herbert Hoover, Doak worked on Hoover's successful presidential campaign and served as a labor committee advisor for the Republican National Committee. Upon taking office in 1929, President Hoover eyed Doak as a possible labor secretary nominee, but opposition rose from the American Federation of Labor that scuttled that nomination.
However, after the Great Depression struck, Hoover changed course and nominated Doak to lead the DOL in 1930. In collaboration with his immediate predecessor, James J. Davis, who became a U.S. senator representing Pennsylvania after leaving as labor secretary, Doak's crowning achievement was helping the Davis-Bacon Act — legislation that established prevailing wage laws that benefit our Sheet Metal brothers and sisters and other union laborers — to become federal law in 1931. That law remains in effect 90 years later.
"Doak was sensitive to unemployment matters and supported studies of public works programs and unemployment insurance to offset the effects of the Great Depression," historian Jonathan Grossman wrote in an article marking the 75th anniversary of the Department of Labor that was published in the February 1988 issue of the Monthly Labor Review. "But economic conditions worsened during his relatively brief tenure, and he was overwhelmed by the worldwide economic disaster."
After serving as DOL head for the majority of Hoover's Depression-ravaged term, Doak left the post in March 1933 after Franklin Delano Roosevelt took office and returned from a leave he had taken from his BRT leadership position as national legislative representative.
Just months later, on Oct. 23, 1933, Doak passed away at age 50 from cardiovascular disease. However, the work that he did as a labor leader continues to reverberate through our organization to this day.