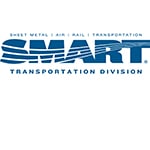 The official website of SMART Transportation Division, www.utu.org, is moving to smart-union.org/td.
In preparation for this move, both www.utu.org and smart-union.org/td will not be updated after close of business July 8 until further notice. During this period, important news updates will be available on our Facebook and LinkeIn pages.
While we are working to seamlessly make this move behind-the-scenes, all of the information, forms, sections, applications, news and resources will still be available on both websites.