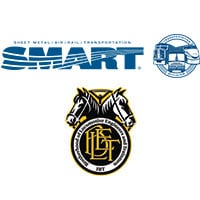 CLEVELAND, Ohio, (January 28, 2022) — SMART-TD and BLET members employed by BNSF Railway continue to labor under a Temporary Restraining Order (TRO) issued by the United States District Court for the Northern District of Texas, which was issued on Tuesday, January 25, 2022. It is imperative that all involved SMART-TD and BLET members comply with the court's order. As was advised when the TRO was provided to all General Committees and Local Divisions/Locals, SMART-TD and BLET will continue to challenge BNSF's Hi-Viz policy in court and will seek to have the court's order lifted.
In related events, SMART-TD and BLET on January 27 filed answers and counterclaims in the District Court seeking a Preliminary Injunction and Permanent Injunction against implementation of the BNSF's Hi-Viz policy. SMART-TD and BLET will continue to use every legal means available to prevent the implementation of the proposed policy. Additional information will be forthcoming as it is available.
SMART-TD's Answers and Counterclaims
###
The SMART Transportation Division is comprised of approximately 125,000 active and retired members of the former United Transportation Union, who work in a variety of crafts in the transportation industry.
The Brotherhood of Locomotive Engineers and Trainmen represents nearly 57,000 professional locomotive engineers and trainmen throughout the United States. The BLET is the founding member of the Rail Conference, International Brotherhood of Teamsters.