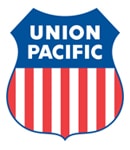 OMAHA, Neb. – Union Pacific Jan. 8 announced that Joseph O'Connor and D. Lynn Kelley will assume new positions within the organization.
O'Connor, currently vice president of purchasing, has been named vice president of labor relations. He will lead the organization responsible for negotiating labor agreements and managing the day-to-day relationship with the company's represented employees.
O'Connor joined Union Pacific in 1987 as a capital planning analyst in the company's finance organization. During his career, he held several positions in finance and network design and integration before being named vice president of purchasing in 2003.
He will succeed William (Rick) Turner, vice president of labor relations, who is retiring in March.
Kelley, currently vice president of continuous improvement, will take on the added responsibility of the company's supply organization. As vice president of supply and continuous improvement, she will be responsible for purchasing, strategic sourcing, and the company's industrial engineering activities.
Kelley joined Union Pacific in 2011 from Textron, where she was vice president of operational excellence. Prior to joining Textron, Kelley was a professor at the Madonna University School of Business and served as chief operating officer of Doctor's Hospital in Detroit, Mich.
"Lynn and Joe have proven themselves as effective leaders at Union Pacific and I am pleased that they have agreed to take on these important roles for our company," said Jack Koraleski, Union Pacific president and chief executive officer. "Both of these functions are a key part of our ongoing commitment to creating value for our customers and great financial returns for our shareholders. We all wish Rick Turner the best of luck in retirement. In his 32 years of service to the railroad, Rick has served our company well in a series of key assignments including vice president of Premium Operations and vice president of the National Customer Service Center."
Kelley and O'Connor will assume the new responsibilities effective Feb. 1.