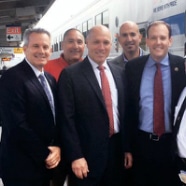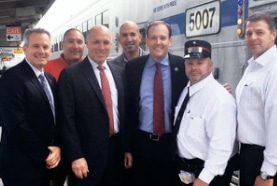 With roughly 340,000 passengers every weekday, the Long Island Rail Road (LIRR) is the busiest commuter rail system in North America—one of only a few systems in the world that run 24 hours a day, seven days a week, year-round.
In 2015, its fourth straight year with increased ridership, the LIRR carried 87.65 million passengers into, out from, and around New York City and its vast eastern boroughs and suburbs. Little wonder, then, that adding LIRR capacity is a top priority effort for the LIRR's operating agency, the Metropolitan Transportation Authority (MTA).
SMART is working with New York Governor Andrew Cuomo on rebuilding and expanding the complex web of transportation infrastructure that feeds New York City. SMART TD GCA 505 General Chairman Anthony Simon has been working with both sides of the aisle to implement the LIRR improvements and other projects within the Governor's broad initiative.
Second- and third-track expansion in the works
With the city's role as economic engine for the state and entire region, most Democratic and Republican political officials are on board with the aggressive LIRR plan.
A current $387 million project will add a second track to expand service on 18 miles of the LIRR main line's east end. After that job is completed, the railroad will add 9.8 miles of third track on that same main line to further improve service between the suburbs of Long Island, Queens and Manhattan.
The increased capacity will provide drastic improvements in key areas: serving reverse commuters; relieving congestion; and feeding the ongoing East Side Access project to bring more service into Grand Central Station.
"This bold and aggressive plan is not only making the largest commuter railroad in the country better and more efficient, it is creating jobs and more work for our members and the members of other trade unions," says Simon.
Political action builds strong relationships—and jobs
Simon has worked closely with the Governor's office, MTA Chairman Tom Prendergast, local politicians and other labor leaders to ensure everybody benefits from this unprecedented capital plan at the MTA.
Working under project labor agreements (PLAs) with ambitious goals, union workers on Long Island will be busy thanks to the relationships SMART has built with leaders in the U.S. Congress and the powerful New York State Senate.
Intensive work with local politicians has generated strong support within communities of all sizes, who see the economic value of new jobs and the safer and more efficient railroad the projects will create.
SMART's political action is well known to—and well respected by—key government officials, including U.S. Representative Peter King (R) and New York Governor Andrew Cuomo.
"Anthony Simon is direct and honest and as honorable as any one I have ever dealt with. He is always a man of his word and a true leader," Congressman King said.
Governor Cuomo said, "New York is undertaking the nation's most ambitious infrastructure plan to ensure that we have a transportation system that is built to meet the commuter demands of the 21st century and provide an enhanced travel experience for all.
"The men and women of the SMART Transportation Division on the LIRR, led by Anthony Simon, are invaluable assets as we work together toward a safer, more efficient transit system for all New Yorkers," Cuomo added.
Unified SMART flexes muscle
Another positive aspect of the LIRR work is to be able to see how our united Union is working—members and officials, side by side and regardless of craft or work—to generate progress and increase work for SMART members and Union labor overall.
SMART SM Local 137 President and Business Manager Dante Dano and TD GCA 505's General Chairman Simon have combined resources and formed a bond that is clearly benefitting members in the New York area compared with what might have been achieved operating separately. The LIRR projects are just the latest example of this increased strength in action.
Dano reflected on this joint effort by remarking that, "maintaining an open dialogue with political leaders and communicating the needs of working families, while working with other labor leaders toward a common goal, is the key to being effective. The relationships you build are vital, regardless of party or any of the positions you have taken."