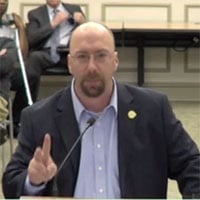 Virginia's full House of Delegates soon will be considering H.B. 440, a two-person freight crew bill, after it passed the body's Committee on Commerce and Labor Jan. 16 by a 13-8 vote.
"This is a big win — a huge win today," said Virginia State Legislative Director Ronnie Hobbs, who said that prior attempts at passage never made it past the subcommittee level. "Now, we've got to get ready for the House hearing."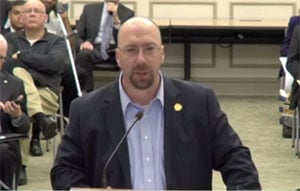 Hobbs said a number of members and Alternate National Legislative Director Jared Cassity were there at the hearing to show that they backed the bill, which establishes fines for freight carriers who do not operate with two crew members in the cab with exceptions for hostler or yard service.
That support will need to be sustained and more support from members will be needed as the effort continues to get passage of the bill, which was introduced by Delegate Steve E. Heretick of District 79.
"As Jared said, we need to fill the mezzanine when the bill comes up in the House," Hobbs said. "They need to see our members."
Hobbs said that the result in Virginia shows that elections do have consequences — control of the House changed in November, and candidates who are more supportive of rail safety efforts were elected to office.
Hobbs said that he will keep members informed as the bill progresses and thanks everyone for their strong support.
"We're rounding second and heading to third base," he said.
Contact Hobbs at rhobbs1313@gmail.com for more details on how to show your support.
Video of testimony from the hearing appears below.

Your browser does not support the video tag.