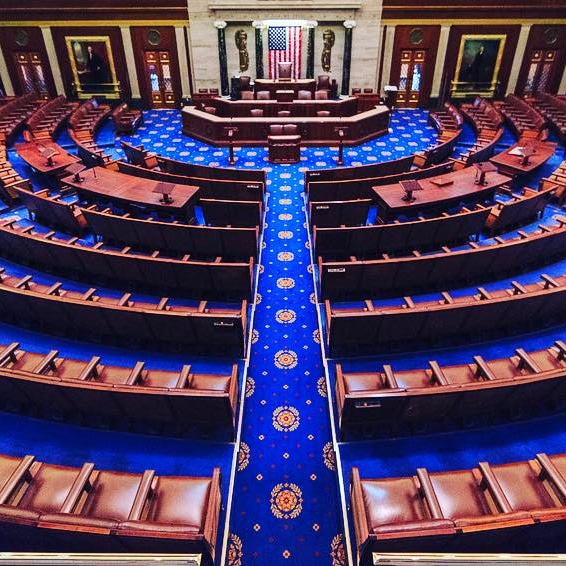 A surface transportation reauthorization bill introduced June 4 by chair of the House Committee on Transportation and Infrastructure Peter DeFazio (D-Ore.) has a wide-reaching positive impact for members of the SMART Transportation Division.
Mostly mirroring the identically named INVEST in America Act that passed the U.S. House of Representatives last summer but died in the Republican-held Senate, the 2021 version known as H.R. 3684 is a $547 billion five-year surface transportation bill with a two-person freight crew provision and encompasses other issues important to all TD members.
"Chairman DeFazio, Rep. Eleanor Holmes Norton and Rep. Donald Payne once again proved that they are receptive to the safety of and the needs of all SMART Transportation Division members," SMART Transportation Division President Jeremy R. Ferguson said. "Every one of our members has a stake in this bill and in the protections and actions this legislation puts forth. We are thankful for the representatives' work, and we support this effort to move the transportation industry ahead."
The bill directs federal investments in roads, bridges, transit, and rail, re-imagines national transportation policies and helps put President Joe Biden's American Jobs Plan that invests in American workers and communities into motion.
"The benefits of transformative investments in our infrastructure are far-ranging: we can create and sustain good-paying jobs, many of which don't require a college degree, restore our global competitiveness, tackle climate change head-on, and improve the lives of all Americans through modern infrastructure that emphasizes mobility and access, and spurs our country's long-term economic growth," DeFazio said.
Of particular importance to TD members are the portions of the INVEST in America Act that cover bus, transit and freight rail.
"This bill is all-encompassing — seeking redesigns of bus operator compartments so that drivers are more protected, protecting transit workers from assault and looking into school bus safety. The representatives also heard our voices regarding almost every one of the concerns we have about the current state of the railroad industry — crew size, train length, the utility of Positive Train Control and safety investigations — to name a few," National Legislative Director Greg Hynes said. "Elections have consequences, and with this legislation, we now have an avenue where many matters that are important to us can be resolved."
What follows is a recap of some of the provisions within the bill most important to SMART-TD members:
Amtrak
The bill triples funding for Amtrak to $32 billion, allowing for enhanced service, ADA upgrades, and investments to renew and support service on the Northeast Corridor and long-distance and state-supported routes.
Bus
Creates a Federal Transit Administration (FTA) training center modeled on the successful National Transit Institute, but with a frontline employee mandate to focus on training for new technologies, safety and emergency preparedness.
Expands FTA's safety plan to include a focus on passenger and personnel injuries, assaults, and fatalities; a risk management process to address transit worker assaults; a joint labor/management safety committee empowered to approve the safety plan; and a comprehensive frontline workforce training program on safety and de-escalation.
Prevents a transit agency from deploying an automated vehicle that duplicates, eliminates, or reduces the frequency of existing public transportation service or a mobility on demand service. Transit agencies considering transit automated vehicles and mobility on demand service are required to develop a workforce development plan describing how the automated vehicle will affect transit workers. Ensures transit workers are given fair notice if their job is jeopardized by a transit automated vehicle or mobility on demand service.
Authorizes FTA research on redesigning bus driver compartments to improve driver visibility, expand driver functionality, and reduce driver assault.
Directs the Transportation secretary to review the costs and benefits of requiring lap/shoulder belts in large school buses and to consider requiring seat belts in newly manufactured school buses. Requires newly manufactured school buses to be equipped with automatic emergency braking and electronic stability control systems. Directs the secretary to conduct research and testing on fire prevention and mitigation standards—including firewalls, fire suppression systems, and interior flammability and smoke emissions characteristics—for large school buses and consider issuing updated standards.
Freight rail
Requires the federal Department of Transportation (DOT) rescind any special permit or approval for the transport of liquified natural gas (LNG) by rail tank car issued before the date of enactment. Also prohibits DOT regulations on the transport of LNG by rail tank car from taking effect until DOT conducts a further safety evaluation. Directs the Pipeline and Hazardous Materials Safety Administration (PHMSA) and Federal Railroad Administration (FRA) to initiate an evaluation of the safety, security, and environmental risks of transporting LNG by rail.
Improves rail safety by addressing highway-rail grade crossing needs.
Requires a study on the effects of long trains.
Requires FRA to increase its roster of rail safety inspectors by 20 percent.
Requires FRA to collect data on train length and crew size when an accident occurs.
Requires the creation of a standardized FRA safety investigation process.
Requires FRA to engage in a public process before granting waivers from, or suspensions of, railroad safety standards and regulations.
Creates a federal blocked crossing program to collect data and enforce a 10-minute blocked crossing limit.
Has a two-person crew freight train mandate that, like the 2020 bill, has some exemptions for short lines and train length. These are:

The train operations are not on a main line.
The train does not exceed a maximum speed of 25 mph on territory with an average track grade of less than 2% for any segment of track that is at least two continuous miles.
The locomotives are performing assistance to a train that has incurred mechanical failure or lacks the power to traverse difficult terrain, including to or from the location where assistance is provided.
The locomotives are not attached to any equipment (except a caboose) and do not travel further than 30 miles from a rail yard.
A location where one-person operations were being utilized one year prior to the date of enactment of this bill, only if the DOT Secretary determines that the operation achieves an equivalent level of safety.

Short-line exception
In addition to the above, a train may be operated with a reduced crew, if the carrier has fewer than 400,000 total employee work hours annually and an annual revenue of less than $20,000,000.
A train must be operated by a two-person crew (no exception), if:

It is transporting one or more loaded cares carrying material toxic by inhalation.
It is carrying 20 or more loaded tank cars of a Class 2 material or a Class 3 flammable liquid in a continuous block.
It has 35 or more loaded tank cars of a Class 2 material or a Class 3 flammable liquid throughout its consist.
It is 7,500 feet in length or longer.

Has a cross-border provision for the southern border of the U.S.
Makes yardmaster employees subject to FRA's hours of service protections.
Directs the FRA to take such actions as are necessary to ensure that certain older air brake control valves are phased out on rail cars operating in cold regions of the United States, an issue brought to light by SMART-TD leadership in 2019.
Directs the DOT to require railroad carriers to regularly report on failures of positive train control (PTC) systems.
Directs the Secretary of Transportation to issue a final rule on fatigue management plans within one year.
Transit
Establishes a working group to improve the musculoskeletal health of transit and commercial vehicle drivers by developing stronger ergonomic seating standards in transit and commercial vehicles. Requires the working group to compare design standards for women to those for men.
Provides funding for corridor planning and development of high-speed rail projects, reducing traffic congestion and shortening travel times.
Requires passenger and commuter railroad carriers to implement response plans and employee training in order to address assaults against both passengers and employees. The section also requires railroads to report annual assault data to FRA.
The bill is scheduled to be marked up by the U.S. House on June 9.
• Read a section-by-section summary of the 2021 INVEST in America Act. (PDF)
• Read the bill. (PDF)
• Read a fact sheet about the bill. (PDF)