Switching Operations Fatality Analysis
SOFA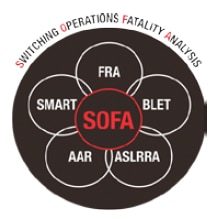 In February 1998, a Switching Operations Fatality Analysis (SOFA) working group, with representatives from the Federal Railroad Administration (FRA), labor and management was formed at the request of the FRA to review employee fatalities and to develop recommendations for reducing fatalities in switching operations.
The SMART Transportation Division is represented in the SOFA group by National Legislative Director Greg Hynes (1081) and Kansas State Legislative Director Ty Dragoo (1503).
In an effort to reduce injuries and fatalities, the group recommends that employees practice the following five life-savers:
Secure all equipment before action is taken.
Protect employees against moving equipment.
Discuss safety at the beginning of a job or when work changes.
Communicate before action is taken.
Mentor less experienced employees to perform service safely.
SOFA Documents:
(Note: SOFA updates are published quarterly.)
| | |
| --- | --- |
|  4th Quarter 2018 |  View |
|  3rd Quarter 2018 |  View |
|  2nd Quarter 2018 |  View |
|  1st Quarter 2018 |  View |
|  4th Quarter 2017 |  View |
|  3rd Quarter 2017 |  View |
|  2nd Quarter 2017 |  View |
|  1st Quarter 2017 |  View |
|  4th Quarter 2016 |  View |
|  3rd Quarter 2016 |  View |
|  2nd Quarter 2016 |  View |
|  1st Quarter 2016 |  View |
|  4th Quarter 2015 |  View |
|  3rd Quarter 2015 |  View |
|  2nd Quarter 2015 |  View |
|  1st Quarter 2015 |  View |
|  4th Quarter 2014 |  View |
|  3rd Quarter 2014 |  View |
|  2nd Quarter 2014 |  View |
|  1st Quarter 2014 |  View |
|  4th Quarter 2013 |  View |
|  4th Quarter 2012 |  View |
|  3rd Quarter 2012 |  View |
|  1st Quarter 2012 |  View |
|  3rd Quarter 2011 |  View |
|  1st Quarter 2011 |  View |
|  4th Quarter 2010 |  View |
|  2nd Quarter 2010 |  View |
|  1st Quarter 2010 |  View |
|  3rd Quarter 2009 |  View |
|  2nd Quarter 2009 |  View |
|  1st Quarter 2009 |  View |
|  4th Quarter 2008 |  View |
|  3rd Quarter 2008 |  View |
|  2nd Quarter 2008 |  View |
|  1st Quarter 2008 |  View |