Waverly Harris
Transportation Division Alternate Vice President – Bus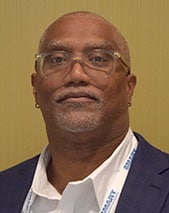 Waverly W. Harris Sr., alternate vice president of the SMART TD Bus Department, was born Jan. 14, 1970, and has worked a variety of positions for the Southeastern Pennsylvania Transportation Authority in his 26 years with the carrier, including as a bus, trolley and high-speed line operator.
He has served a variety of officer positions in SMART TD. He has been president of Local 1594 (Upper Darby, Pa.) since October of 2009 and has served as local chairperson of LCA-SEPTA for the same length of time.
In 2010, he was elevated to general chairperson of GCA-SPT and has served as the chairperson of the Association of General Chairpersons' District 3. In his career as a union officer has successfully negotiated several worker contracts.
On Aug. 11, 2019, he was elected Transportation Division Alternate Vice President – Bus by acclamation at the Second Transportation Division Convention in Las Vegas.
He resides in Philadelphia with his wife, Stacy, and children Waverly Jr., Avery and Anastasia.