Troy Johnson
Transportation Division Vice President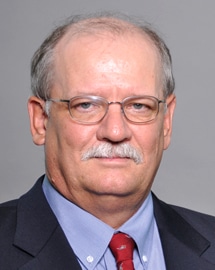 Troy Johnson was born Nov. 15, 1956, in Dallas, Texas. He began his railroading career with Union Pacific in May 1976 and was promoted to conductor Feb. 1, 1979.
A member of Local 594 at Mineola, Texas, Johnson was elected to the office of vice local chairperson in 1989 and elevated to local chairperson 1991. He served as local delegate in 1995. He served as vice general chairperson of UP General Committee GO 927 from 1995 to 1999 and became general chairperson in 2003. He was appointed to the UTU executive board in 2008 and was elected alternate vice president at the union's eleventh quadrennial convention in 2011. In December 2012, he was elevated to the office of International vice president and was elected to that office in 2014.
Johnson also served on the UTU constitution committee in 2011.
As a local and general chairperson, Johnson has experience in negotiating agreements and with employee protections, arbitrations and special board proceedings.
Locally, he has served as a board member for the Rose Capital West Little League since 2009.
Johnson and his wife, Rhonda, reside in Tyler, Texas, with their children Kali and Stephen.