Robert Kerley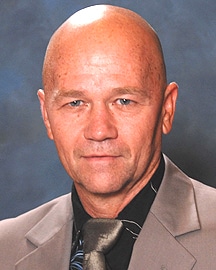 Transportation Division Vice President
Robert D. Kerley is a member of Local 303, Springfield, Mo.
Born June 30, 1952, he began his railroad career as a brakeman for the former St. Louis San Francisco in 1971. He was promoted to conductor in 1973, fireman in 1977 and locomotive engineer in 1978.
Kerley served the members of his local as fireman's local chairperson in 1977, 1979 and 1983. He was elected full-time associate general chairperson on the BNSF Railway (GO 001) in 1983 and re-elected to the post until 1999, when he was elected general chairperson.
While continuing to serve as general chairperson, Kerley was elected alternate vice president-West, by delegates at the UTU convention in 2003. He was elected full vice president in 2007 and re-elected to that position in 2011.
Kerley also has served on the UTU Board of Directors since 2008.
Kerley also has served as secretary of UTU Western General Chairpersons' Committee for two terms (he was elected by UTU general chairpersons on all railroads west of the Mississippi River).
He also served as secretary of the UTU District No. 1 General Chairperson's Association for two terms.
In 2004, Kerley was appointed to the UTU National Negotiating Committee. He also is a member of the UTU Wage and Rules Panel, which works to address ongoing collective bargaining issues at the national level.
Kerley is currently assigned to assist general committees on the Union Pacific, BNSF Railway, KCS, CSX, CN and CP. He also is on special assignment to coordinate with UTU Information Technologies department and National Mediation Board in developing Web-based communications and training tools for UTU officers, and to assist general committees west of the Mississippi River as needed in matters relating to implementation of H.R. 2095, the Federal Railroad Safety Improvement Act of 2008.
Kerley has been married to wife Vicki for 39 years. The couple has two grown daughters and five grandchildren. They live in the Ozark hills just north of the Country Music Mecca of Branson, Mo.