Mike Futhey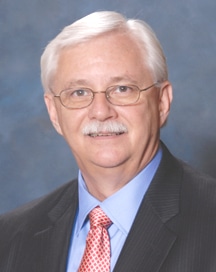 International President
Malcolm B. "Mike" Futhey is the eighth president of the 42-year-old United Transportation Union, whose predecessor roots extend to the 1800s.
He was elected in August 2007 and took office Jan. 1, 2008. He was re-elected to that office in August 2011. The UTU has some 125,000 active and retired members employed by freight, passenger and commuter railroads, bus and transit companies and the aviation industry.
On Jan. 1, 2008, Futhey also became president of the United Transportation Union Insurance Association, the 135-year-old fraternal benefits association offering a wide-range of life, health, long-term care and annuity policies to UTU members.
Futhey also serves as a vice president of the AFL-CIO, and is a member of the AFL-CIO Executive Committee, which determines federation policies.
A career railroader, who began as a trainman in 1971 on the former Missouri Pacific Railroad (now part of Union Pacific), Futhey has served as a UTU International vice president since 1995, and in various other union-elected positions since 1978. For 10 years until 1988, he was the senior-elected UTU officer representing employees of Memphis Union Terminal.
Futhey earned a B.A. in history from the University of Memphis, attended the University of Memphis School of Law, and completed courses at the George Meany Center for Labor Studies in Silver Spring, Md.
He is a former member of the Germantown Democratic Club Steering Committee, was active in the Clinton and Gore presidential campaigns, and for 25 years was a youth basketball coach in Germantown.
Futhey and his wife, April Taylor Futhey, are both Memphis, Tenn., natives.