Kim Thompson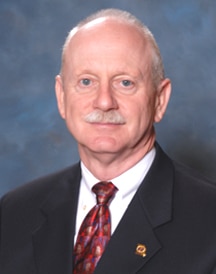 General Secretary and Treasurer
Kim Thompson, general secretary and treasurer of the UTU, was born Jan. 21, 1948, and began his railroad career in 1966 as a brakeman on the Moberly Division of the former Wabash Railway (later merged into Norfolk & Western Railway, and now part of Norfolk Southern). He was promoted to conductor in 1972 following four years of U.S. Navy service.
In 1975, Thompson was elected president and chairman of UTU Local 226, Moberly, Mo., representing conductors, brakemen and yardmen, and was elected by his local as a delegate to two UTU conventions. He was elected legislative representative of Local 226 in 1976.
In 1985, Thompson was elected a full-time vice general chairperson (GO-719, merged in 1998 into GO-687), and elected general chairperson of GO-719 in 1989, representing conductors, brakemen, yardmen, firemen and engineers on the former Wabash lines of Norfolk Southern.
Thompson was elected to the UTU International's executive board in 1987, and served as board chairman for eight years. In 1995, he was elected first alternate International vice president for the South; and elevated to International vice president in 1997.
From 1988 through 1997, Thompson served on the board of the Wabash Memorial Hospital Association.
Kim Thompson and his wife, Connie, have five children and five grandchildren.