John Risch
National Legislative Director (2014-2019)
John Risch was the National Legislative Director of the SMART Transportation Division, and worked full-time in our Washington, D.C., office from 2009 to 2019.
There, he headed our union's legislative, regulatory, safety and political issues. He was elected National Legislative Director in 2014. Brother Risch is a member of the Federal Railroad Administration's Rail Safety Advisory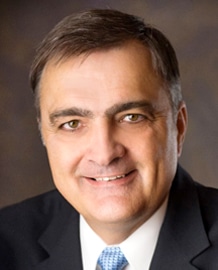 Committee (RSAC) where he represents SMART TD by helping to formulate federal rail-related regulations. He is also a member of the SMART General Executive Council and the SMART TD Board of Directors. In addition he is a board member of UTUIA.
Brother Risch is a former North Dakota State Legislative Director for the United Transportation Union, serving in that capacity from 1986 to 2009, and is a member of Local 1344 at Mandan, N.D.
Brother Risch began his railroad career on Burlington Northern Railroad, working in the track department for two summers while attending college. In the fall of 1978, he hired out in train service and in 1979 he entered engine service in what is now BNSF Railway. He is a long-time International Officer, serving on the Executive Board from 1991 until 2009.
Risch is a graduate of Bismarck State College and earned a bachelor's degree in Labor Studies from Antioch University of Yellow Springs, Ohio, where he studied collective bargaining, labor history, labor law, world labor movements and other issues related to labor.
While serving as the North Dakota State Legislative Director, he testified hundreds of times at that state's legislature. He was also appointed by the governor to the Education Action Commission and Occupational Therapy Board. He was appointed Chairperson of the state's Minimum Wage Commission twice, once by a Democratic labor commissioner and once by a Republican labor commissioner. In that role, he led efforts to raise the minimum wage and improve issues of the workplace, including extending minimum wage coverage to farm workers, something the federal law and most states exempt from coverage. In addition, Risch has testified before both the U.S. Senate and House of Representatives' committees representing transportation workers.
Risch wrote a regular newspaper column for The Bismarck Tribune from 1991 until 1993, where he focused on labor, economic and tax issues. Risch has been married for 36 years to his wife, Kathi, and they have two adult children.