John R. England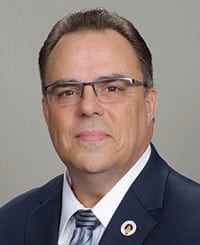 Transportation Division Vice President
Transportation Division Vice President John England began his railroad career with the BNSF in 1978. He has worked as a trainman, engineer, and RCO Operator. He has spent the last 30-plus years as a full- and part-time union officer gaining insight into the Transportation Division and lobbying for better working conditions for our members. After 17 years as a Local Chairperson, John became a General Chairperson and earned the distinction of being the first General Chairperson of a combined committee encompassing bus and rail properties.  John also spent many years as a Local Legislative Representative, eventually rising to Alternate State Legislative Director of California. Brother England has also served as a Delegate to four United Transportation Union Conventions as well as attending three others and served as a Delegate to the last two AFL-CIO conventions where many unions come to work together.
While working at the direction of the President Transportation Division over the past 5 years, John has been involved in strategic planning at the highest level and is well versed, having intimate knowledge of the administrative issues of the Transportation Division. His experience and knowledge have helped in creating Transportation Division budgets, staffing levels, meeting logistics as well as future planning. While assisting at the International level, John has been immersed in meetings concerning every aspect of our Union. In addition to serving on the General Executive Council, where decisions are made that affect all members, John is also on the Transportation Division Board of Directors making decisions that move our Union forward while maintaining the former UTU's legacy.
For the past few years Brother England has had the opportunity to work with Designated Legal Council and the Academy of Rail Labor Attorneys, along with the Cooperating Rail Labor Organizations, where many of our health and welfare programs and pensions are decided.  John's role as a Board Member of the United Transportation Union Insurance Association (UTUIA) and former role as General Secretary & Treasurer of the UTUIA have helped move the Association forward.  He has been involved in multiple real estate transactions with the UTUIA.
In addition, the SMART TD President has assigned Brother England to:
Be the point man on the Confidential Close Call Reporting System (C3RS), which is designed to assist members reporting safety issues without fear of retribution from the carriers.
Provide oversight to the National Safety Team, which assists the National Transportation Safety Board when investigating major rail accidents.
Assist Locals when problems with elections arise.
Be a member of the National Negotiating Team.
Be a member of the Amtrak National Contract Negotiating Team.
Negotiate short line, commuter rail, transit and school bus and airline contracts.
John has been married to his wife Percia for 41 years.  They have five adult children and four grandchildren as well as two fur babies.