John Lesniewski
Transportation Division Vice President John Lesniewski, a member of Chicago Local 1534, was born Nov. 9, 1953. He attended Purdue University in Lafayette, Ind., before starting his railroad career on the Baltimore and Ohio Chicago Terminal Railroad (CSXT) Oct. 29, 1972.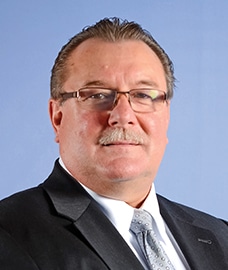 After having held a number of local offices, Lesniewski was elected local chairperson of Local 1534 in 1982 and was re-elected by acclamation to that position in 1986, 1990, 1994 and 1998, serving for more than 16 years. He also served as the local's delegate at UTU Conventions in 1987, 1991, 1995, 1999 and 2003.
In 1995, Lesniewski was elected part-time secretary of CSXT/B&O General Committee GO 049 after having worked 26 years as a trainman and 16 years as a part-time representative serving his fellow brothers and sisters. He was elected by acclamation to a full-time position as first vice general chairperson Jan. 5, 1999. He was re-elected to that position in 2003 and, upon the retirement of former General Chairperson J. T. Reed July 1, 2004, Lesniewski was elected by acclamation as general chairperson on the former B&O CSXT property. He was re-elected for successive terms by acclamation in 2007 and 2011.
Lesniewski served as chairperson on one of the largest rail general committees in the country, representing conductors, trainmen, yardmen, passenger conductors, passenger assistant conductors, hostlers and engineer trainees exclusively. He also represented a large contingent of engineers on the northern half of CSXT. He has been elected or re-elected by acclamation a total of 16 times during his career (three as delegate). On Feb. 28, 2011, Lesniewski was elected as second alternate vice president-East by the UTU board of directors and was subsequently elected, overwhelmingly, as a full vice president by delegates at the 2011 UTU Convention and was reelected to the position at the SMART Transportation Division convention in 2014. At the 2014 convention, he was also elected "successor president" by the delegates. He currently serves in both capacities, as well as general vice president on the general executive council (GEC) of SMART.
Lesniewski served on the National Negotiating Committee for the July 1, 2008, National Mediation Agreement under both former-Presidents P. C. Thompson and M. B. Futhey Jr. He also served on the 2011 National Negotiating Committee, having been appointed by International President Futhey in December 2009. He currently serves on the 2015 National Negotiating Committee, having been appointed by President – Transportation Division John Previsich.
His other International appointments include the Q&A Committee for the 2008 agreement, the 2008 Entry Rates Arbitration Committee, the Conductor Certification Bargaining Group RSAC Committee (2009), the Fatigue Management Plans Working Group RSAC (2012) and the National Wage & Rule panel (2004 and 2009).
John and his wife of 44 years, Gail, reside in Noblesville, Ind. They have four children, three of whom are married, and eight grandchildren.