Joe M. Lopez
Transportation Division Vice President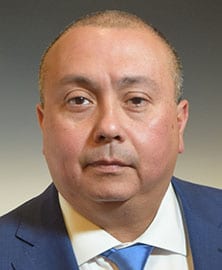 Joe M. Lopez, a member of SMART TD Local 1532 in Kansas City, Kansas, began his railroading career with the Santa Fe Railway in July 1993 as a switchman and then was promoted to engineer in 1994.
His involvement as a union officer began in the mid-1990s as 1532's vice local chairperson. He became local chairperson in November 2002 and served as the local's vice president from 2008 to December 2011. Lopez was elected president of the local and served from January 2012 to February 2014.
In February 2011, he was elected secretary for GCA 009, a position he filled until he was elected general chairperson by acclamation in February 2015. Lopez was re-elected for a second term by acclamation in March 2019.
He also served as Local 1532's delegate at the 2011, 2014 and 2019 conventions.
Lopez was elected vice chairperson for the Association of General Chairpersons' District 1, is a certified remote control operator and has served as a new hire training coordinator. His home base is Argentine Yard in Kansas City.
He married his wife, Anne, two months after starting on the Santa Fe Railroad. They have four children — Ethan, Allison, Josh and Emily.