Jared Cassity
Alternate National Legislative Director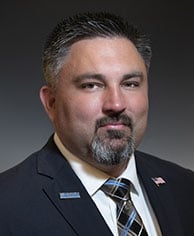 Jared Cassity was born in 1978 and is a member of Local 1377 (Russell, Ky.). He started his railroad career with CSX in September 2005 and was promoted to engineer in 2008. He has served as a vice local chairperson, secretary and treasurer, legislative representative, local chairperson, assistant general chairperson, and Kentucky state legislative director.
In addition to his elected roles, he has been a member of the National Safety Team since 2014, where he was subsequently selected to the position of Alternate Director (East) for the NST in 2016. Likewise, he was elected by his fellow peers of state directors (having CSX jurisdiction) to serve as the directors' representative on the CSX Safety Model Executive Board in 2013.
Cassity was elected to the office of alternate national legislative director at the Second SMART Transportation Division Convention in August 2019 and became director of the TD National Safety Team in June 2021.
Jared and his wife, Mikki, have two daughters, Mykayla and Mykenna.