Jamie C. Modesitt
Transportation Division Vice President
Jamie C. Modesitt, a member of Local 298 at Garrett, Indiana, was born July 1, 1974. He attended Ball State University in Muncie, Indiana, before beginning his railroad career with CSX Transportation on June 12, 2000. He holds the craft of conductor and engineer.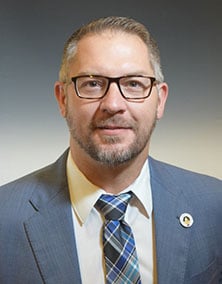 After having held a number of local offices, Modesitt was elected local chairperson of Local 298 in 2006 and was re-elected by acclamation to that position in 2011 where he was responsible for serving approximately 200 members. In 2011, Modesitt was elected secretary of CSXT/B&O General Committee GO 049 and was later elected by acclamation to a full-time position as 2nd Vice General Chairperson in 2012. He was later elected by acclamation to 1st vice general chairperson in 2014. Modesitt was elected general chairperson by acclamation in January 2018 and in January 2019 during the GO 049 Reconvening Meeting.
Modesitt served as delegate for Local 298 and attended UTU Conventions in 2007, 2011 and the First SMART TD and General Conventions in 2014. He was selected by the Board of Directors to serve as the chairperson of the 2014 SMART TD Constitution Committee. In addition, Modesitt was appointed an alternate member to the TD Executive Board by the Board of Directors on April 4, 2017, and was elevated to the Executive Board in January 2018.
Modesitt has served as general chairperson on one of the largest rail general committees in the country representing thousands of members consisting of conductors, trainmen, yardmen, passenger conductors, passenger assistant conductors, hostlers, engineer trainees, engineers, trackmen, signalmen, carmen, machinists and locomotive electricians. His GO 049 represents members on CSXT Railroad working on the north Mid-Atlantic district (former B&O and Conrail), Buffalo & Pittsburgh Railroad (Genesee & Wyoming), Rochester & Southern Railroad (G&W), Marquette Railroad (G&W), Central Maine & Quebec Railroad, Grand Elk Railroad (Watco), Bombardier Transportation (MARC Service) and Herzog Transit Services Inc. (HTSI).
Modesitt is considered an expert when it comes to Railway Labor Act (RLA) arbitration with experience in well over a thousand cases consisting of discipline cases and agreement rules and has presented local chairperson workshops at the SMART TD Regional Meetings since 2015.
Modesitt was elected to the position of vice president by acclamation at the Second SMART Transportation Division Convention, Aug. 11, 2019.
He and his wife, Janelle, reside in Jacksonville, Florida.