James A. Stem Jr.
National Legislative Director
James A. Stem Jr., national legislative director of the 125,000-member United Transportation Union, was born June 19, 1948, in Raleigh, N.C.
Stem began his railroad career in 1966 as a trainman for the Seaboard Air Line Railroad in Raleigh and joined the Brotherhood of Railroad Trainmen. He has worked as a trainman, switchman, hostler helper, hostler, fireman and locomotive engineer and currently holds seniority as a locomotive engineer on CSX between Richmond, Va., and Abbeville, S.C.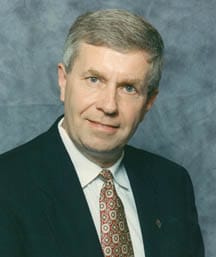 Stem became interested in the union movement and became active in Local 1129 in Raleigh. He worked part-time as a special UTU organizer from 1973 through 1976 and was elected as secretary-treasurer of Local 1129 in 1975. He has also held the elected positions of local chairperson and legislative representative and has served as a delegate to five UTU International conventions from 1979 to 1995.
Stem was elected as North Carolina state legislative director in 1984. He was appointed alternate national legislative director in April 1998 and was re-elected to that position at the UTU conventions in 1999, 2003 and 2007. He was elevated to the office of national legislative director in January 2009 following the death of James M. Brunkenhoefer.
Stem was part of the original Positive Train Control Working Group sponsored by the Federal Railroad Administration in 1997 and remains active in the process.
Stem is active in the Baptist Church, the Masonic Lodge and the Scottish Rite of Freemasonry. He and his wife Bonnie were blessed with three children: two daughters and a son. The couple has three grandchildren and resides in Alexandria, Va.