Gary Crest
Transportation Division Alternate Vice President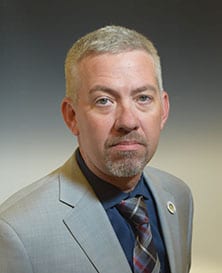 Gary W. Crest is general chairperson of SMART TD GO 887 (UPRR Western Lines), a position he has held since January 2015. As a member of Local 807 in Tucson, Arizona, he has held numerous union positions since 2003.
Crest started his railroad career in 1993 with the Copper Basin Railway as a trainman and was promoted to engineer in 1994. He continued to work there as an engineer until December 1997, when he was hired by Union Pacific Railroad as a switchman/brakeman. He was promoted to conductor in 1998 and became a licensed remote control operator in 2009.
During his union career, Crest has held the following positions: vice local chairperson, local chairperson, delegate, vice general chairperson, general chairperson, chairman of the Western General Chairpersons' Committee and has been a member of the SMART TD Executive Board. Crest also has served on the Federal Railroad Administration's Rail Safety Advisory Committee (RSAC).
Crest currently resides in northern California with his wife, Kristen. He is also the father of two, his son, Joshua, attends the University of Arizona and his daughter, Nikki, is in high school.