Doyle Turner
Transportation Division Vice President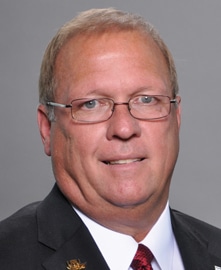 Doyle K. Turner was born May 6, 1956, in Ashland, Ky. He went to work for the Chesapeake & Ohio Railway (now part of CSXT) on Aug. 24, 1974, in Russell, Ky., in road service. He was promoted to engineer in 1976, then to yardmaster in 1992.
A member of Local 1962 in Toledo, Ohio, Turner became interested in unionism and was elected local chairperson in 1992. He was elected local delegate to the UTU International convention held in 2003.
He was elected general chairperson of CSXT Railway General Committee GO 347 in 1996 and continues to serve in that position.
Turner also served as alternate vice president from 2003 to 2007.
Turner was elevated to the position of second alternate vice president – East, in October 2009 and re-elected alternate vice president in 2011. He was elevated to transportation division vice president by the board of directors in October 2013 and was elected to that office in 2014.
Turner and his wife, Mary, reside in Flatwoods, Ky.