David Wier
Dave Wier, Transportation Division Vice President  
Dave Wier, a member of Granite City, Ill., Local 469, began his career on the TRRA of St. Louis in 1974, first as a Trainman and then as an Engineer. Wier was elected by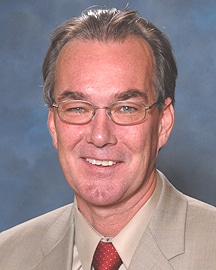 acclamation to three terms as General Chairman of GO 919, Terminal Railroad Association of St Louis (TRRA) and Manufactures Railway (MRS).
As General Chairperson, Wier successfully negotiated yard trip rates on the TRRA and led the UTU to two (2) successful representation elections on the TRRA of St. Louis and Manufacturers Railway.
In 2003, Wier was elected as First Alternate Vice President East, and at the 2007, 2011, and 2014, Conventions, he was elected as Vice President. He is currently the Senior Vice President, serving his third term as International Vice President. At times, he has had over 60 active assignments, including Public Law Boards, contract negotiations and Labor Member on the NRAB First Division, serving two terms each as Chairman and Vice Chairman of the NRAB First Division.
He is assigned to General Committees on BNSF, UP, NS, CSX, CN, CP, KCS- MidSouth, SouthRail, Paducah and Louisville,  Union RR, New Orleans Public Belt, Port Terminal RR Assoc., Terminal RR Assoc. of St. Louis, Tazewell Peoria and Western, Toledo Peoria and Western, Dallas Garland and Northeastern, Tacoma Municipal Belt, Chicago Rail link,  Bessemer and Lake Erie, Gary Railway, Delray Connecting Railway, Iowa Interstate Railway, Illinois Midland, Lake Superior and Ishpeming, Dakota Minnesota and Eastern, Canton RR and Alabama State Docks.
Wier has successfully negotiated more than fifty (50) agreements, a number of which have been designed to bridge the gap between pre and post 85 Members.
Wier has served on the Board of Directors since 2009, and also serves as a General Vice President on the SMART General Executive Council.