Dan Young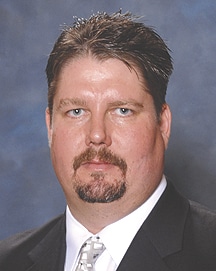 Transportation Division Alternate Vice President
Daniel L. Young, born August 25, 1972, began his railroad career in 1995 on the Atchison, Topeka & Santa Fe Railway (now part of BNSF Railway). He was promoted to engineer in 1998.
A member of Local 1081 in Glendale, Ariz., Young became interested in unionism and became trustee for his local in 1999. He became local chairperson the same year. In 2003 he was elected secretary of BNSF Railway General Committee GO 017; he was re-elected to the post in 2007.
Young was elected second alternate vice president-West by delegates at the UTU's convention in 2007. He was elevated to alternate vice president-West in 2009 and elected to the position in 2014.
Young and his wife, Julie, reside in Ontario, Calif.