Dale Barnett Jr.
Transportation Division Board of Appeals

Dale D. Barnett Jr., born Dec. 6, 1962, began his railroad career in Birmingham, Ala., when he hired out with CSX Transportation in June 1996 and headed to Montgomery, Ala., to the former Louisville & Nashville Railroad property in 1997.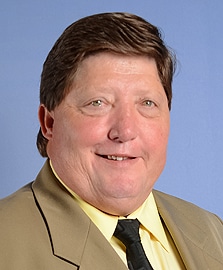 Barnett soon became active in the former UTU when he was elected vice president of Local 762 at Montgomery, Ala., in 1998 and then president of the local in 1999. During that time, he attended the National Labor College to learn about safety standards for railroad employees and bargaining. In 2001, Barnett became legislative representative for the local and delegate the following year. In 2003, Barnett ran for and was elected assistant state legislative director on the Alabama legislative board. He was later elected as secretary of CSX General Committee of Adjustment GO 513 in 2008 and was elected assistant general chairperson of the committee in 2012. He became general chairperson in August 2014, a position he still holds.
Barnett became an officer of the UTU when he was elected to the Board of Appeals by delegates at the 2011 convention and was re-elected to the SMART Transportation Division Board of Appeals at the 2014 SMART Transportation Division convention.
Barnett used the training he received from the National Labor College to begin teaching members about hazardous materials safety at the 2002 UTU regional meeting. He also became the UTU Safety Coordinator for the CSX Atlanta Division in 2003.
Barnett lives in Florida with his wife, Kim. They have three daughters, a stepson and five grandchildren.