Calvin K. Studivant
Transportation Division Vice President/
Director – Bus Department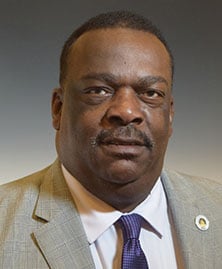 Calvin Studivant is a member of Local 759, Newark, N.J. Born June 18, 1960, in Richmond, Va., he served in the U.S. Army for four years, from 1982 to 1986.
After the service he moved to Clifton, N.J. He has been employed at Community Coach since June 1993.
Studivant serves his union as general chairperson, a position he has held since 2001, and delegate.
He also serves as chairperson of the District 3 general chairpersons' committee.
He was named alternate vice president-bus-East by the UTU Board of Directors in August 2009 and re-elected to that office in 2011. He was elevated to the position vice president -bus by the Transportation Division Board of Directors Oct. 1, 2014.
At the Second SMART TD Convention on August 11, 2019, he was elected vice president – bus by acclamation.
Studivant is married to Michelle, and the couple has three children and two grandchildren.