Arty Martin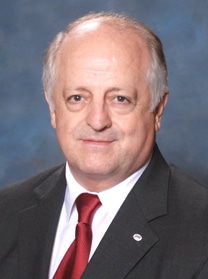 Assistant President
Arty Martin, a fourth generation railroader, is assistant president of the United Transportation Union, having taken office Jan. 1, 2008.
He began his railroad career in March 1966 on Union Pacific Railroad in Pocatello, Ida., while attending Idaho State University. Earlier, Martin played minor league baseball, including one season in Alaska.
Following four years of service in the Air Force, Martin returned to his Union Pacific job in October 1970, and in 1974 earned a bachelor's degree from Idaho State University in business administration, with a minor in labor law.
In 1975, Martin was promoted to engineer. Frustration over railroad treatment of employees encouraged him to run successfully for the position of vice local chairman of UTU Local 78 in 1977, representing engineers. He subsequently was elected as vice general chairperson in 1983, and as general chairperson in 1990.
In 1992, Martin merged his UTU enginemen general committee with one representing conductors, brakemen and yardmen. Today, that general committee represents more than 5,000 train and engine service employees on the Union Pacific Railroad.
Martin's mother and father and grandfather were employed by Union Pacific Railroad, and his great-grandfather ran steam locomotives on the former New York Central Railroad.
Martin is married to the former Cindy Johnson of Topeka, Kans. They have four children: two daughters and two sons, the latter two being railroaders. Brian is a conductor/engineer on Union Pacific in Pocatello; and Dallas is a conductor on Union Pacific in Portland.