Anthony Simon
Transportation Division Alternate Vice President
Anthony Simon was born June 11, 1963, and raised in the Richmond Hill neighborhood of Queens, New York.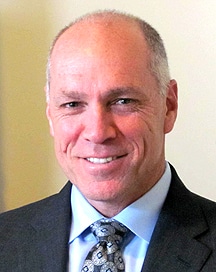 He is the GO 505 general chairperson for the SMART Transportation Division representing conductors, track workers, building and bridge workers, special service attendants, track supervisors, car repairman and car appearance personnel on the Long Island Rail Road (LIRR) in New York. He also served as the chairperson of the Association of General Chairpersons District 1 for the SMART Transportation Division. He is the first passenger railroad chairperson elected into the position. In 2014, Simon was elected alternate vice president by delegates at the First SMART Transportation Division Convention. On Oct. 1, 2019, he was elevated by the TD Board of Directors to alternate vice president.
Simon hired on the LIRR in 1990 as a station cleaner and was promoted to assistant conductor in 1993. He certified to the position of conductor in 1997 and began his career as a union leader soon after. He first served as a committee secretary and elevated to local secretary & treasurer in 2000. In 2006 he ran for the position of general chairperson, which heads the largest union on the LIRR, unopposed. He was elected in 2010 as District 1 chairperson for the Association of General Chairpersons, a position he held until 2016. Simon served on the Constitution Merger Committee as the SMART union came together.
Simon served on the Passenger Hour of Service working group with the Federal Railroad Administration's Safety Advisory Committee, while demonstrating tremendous commitment to transportation safety in his region. He organized and implemented a Hurricane Sandy Relief Fund to benefit railroad families in need affected by the storm, and hosts an annual golf fundraiser in support of families Long Island affected by autism.
Simon and his wife, Ann, reside in Bethpage, N.Y., with their children Nicole and Anthony Jr.