Reddy Adhi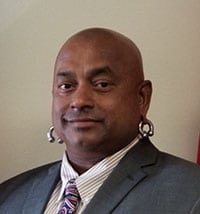 Transportation Division Vice President – Bus
Reddy Adhi was born in the Fiji Islands in 1960. He grew up in the sugar cane fields there where he said his grandfather, a native of India, was forced to work.
Adhi began a brief tour of service in the Fijian Army in 1979 before later working as a prison guard. After emigrating to the United States, he held a variety of odd jobs before becoming employed as a motor coach operator with Big Blue Bus in Santa Monica, Calif. He joined the former United Transportation Union at that time.
In 2000, he was elected as vice general chairperson by his fellow members of Local 1785. He was elevated to general chairperson a short time later. He was elected to the office of SMART Transportation Division Vice President – Bus by delegates at the first Transportation Division convention in San Diego in 2014.
Adhi currently resides in Bakersfield, Calif., with his wife and two children.