Eugene V. Debs was first railroad trade unionist
Eugene V. Debs was the first rail trade unionist to champion history. Debs went to work on his first railroad job at 15 and although in later years his interests turned to politics, the railroad fever never left him.
As a locomotive fireman, Debs successively became an international officer of the firemen's union, assisted in founding the trainmen's union and organized the American Railway Union in the first attempt at industry-wide unionism. He was Socialist candidate for U.S. president in five elections, and he spent more than three years in a federal penitentiary for his uncompromising opposition to America's entry into World War I.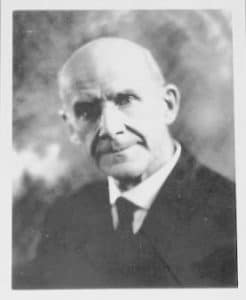 Debs was born November 5, 1855, at Terre Haute, Ind. At 25, he became a national officer of the young firemen's union when he was elected editor and general secretary-treasurer.
Unionism was spreading fast in those early years of hardship for workers, and Debs' reputation as a fighter for laboring men spread with it. The young labor leader was an effective speaker, and he put his talent to good use. He believed that labor was abused and downtrodden, and he dedicated his life to improving the welfare of the working man. Debs would not compromise his ideals. This trait brought him much admiration from union members, but it also brought him much trouble when he fought against "the establishment."
His American Railway Union foundered and died after the U. S. Government sided with the railroads and broke the "Pullman Strike" with armed force. Later, Debs suffered through years of prison life upon being convicted on a federal sedition charge after a fiery anti-war speech at Canton, Ohio.
Debs and his brother were leaders in organizing and building the early railroad unions. When eight railroad brakemen at Oneonta, N.Y., wanted advice on organizing the Brotherhood of Railroad Trainmen (BRT) in September 1883, they sent for "Gene" Debs for guidance. The dedicated unionist, who usually traveled with the crew members on locomotives and in cabooses to save expenses, helped the trainmen organize BRT Lodge 1. In gratitude, the men named the first BRT lodge after Debs.
Debs resigned as GS&T of the firemen before he organized the American Railway Union or ARU because he "could not conscientiously serve in both capacities," as he said. After persuasion, he continued as BLF&E editor for a few additional years. After the ARU died, ending Debs' dream of a great industry-wide union, he became disillusioned and turned Socialist as the only way to improve the working man's lot against the forces of management allied with government. He became a Socialist Party leader and was candidate for U. S. President in five elections: 1900, 1904, 1908, 1912 and 1920. His national popularity was dramatically demonstrated when he drew more than a million votes for president in the 1920 elections while a prisoner in the penitentiary at Atlanta.
Debs was given a 10-year prison sentence when convicted on the sedition charge in 1918. However, public pressure for his release rose to so high a pitch across the country that President Harding rescinded his sentence on Christmas Eve in 1921. Debs was then 66 years old and his health had been broken. The fire had left his eyes and the strength was gone from his voice. Although his spirit and his resoluteness were never broken, Debs' fighting days were near the end.
He retired to his home in Terre Haute where he died October 20, 1926. The fame of Eugene V. Debs grows with the years. His home in Terre Haute has been restored and is now a national shrine. A national award for service to the nation in the fields of labor and public service has been named in his honor and is presented annually. Memorial services are held at the Debs grave annually and a bronze statue of the old warrior has been erected at Indiana State University.
A fitting tribute to Gene Debs was voiced by Debs Foundation President Patrick Gorman. "This man took a position, and there he stood. He followed his conscience and would not betray his friends or fellow workers. And that is why we shall forever honor him and his place in history," said Gorman.