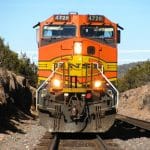 BNSF Railway Co. reported to its customers yesterday that it is experiencing an operational impact due to a track outage caused by wildfires in Essex, Mont.
The Class I informed customers in an Aug. 31 service advisory that the railroad's main track though the area was open, but fires continue to burn, which may cause intermittent track closures.
In an Aug. 28 service advisory, BNSF said wildfires in northwestern Montana affected normal train operations through the area, which was evacuated due to the looming danger of the Sheep Fire. The fire had been advancing along BNSF's Hi-Line Subdivision and came within 200 yards of its mainline. As a result, the railroad suspended traffic that night, according to the advisory.
Read more from Progressive Railroading.