Wade Carlisle, a loyal member of Local 113 (Winslow, Ariz.), died in a non-work-related accident May 1 at age 50.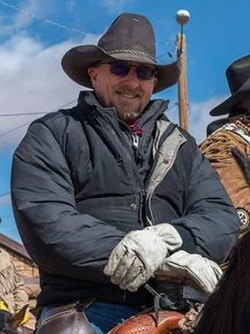 He was a member of our union for six years, and worked as a trainman/brakeman for BNSF.
He was vocal on worker safety issues and participated in an in-depth interview with the Arizona Daily Sun in 2018 regarding train automation and the importance of maintaining two-person crews.
Brother Carlisle ran for political office in 2018, narrowly losing a race for the Arizona State Senate, District 6 seat by a little more than 1,700 votes to a Republican incumbent. He also was a minister, small business owner, a city councilman and most importantly, the husband to Sandy and father to Emma and Abbey.
"Wade was very passionate about selfless service to his community," Arizona State Legislative Director Scott Jones said. "One of his most-impressive qualities was how he kept a very calming demeanor when talking with constituents about issues they were very passionate about."
Brother Carlisle is survived by Sandy, his wife of 22 years, his two daughters, his mother; two brothers; and a number of nieces and nephews.
A viewing and services will be 10 a.m. Saturday, May 8, at First Baptist Church of Holbrook, Ariz. Interment will be at Burton Cemetery in Show Low, Ariz. at 4 p.m. Donations may be made to Youth For Christ of Holbrook online or by check written to Youth For Christ with 31045 in the memo line which can be given to a YFC leader or Pastor Nathan Heller at the service.
His complete obituary can be read here.
SMART Transportation Division offers its heartfelt condolences to Brother Carlisle's family and friends and his brothers and sisters of Local 113.