What is SMART-TD on Long Island, N.Y., doing during the COVID-19 pandemic?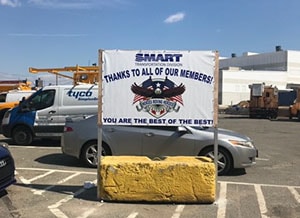 New York City and its bordering suburbs and counties have been among the hardest-hit in the nation by the coronavirus due to its density and the demands of the city's economic engine driven by the financial and business districts.
Like most transportation systems, the Metropolitan Transit Authority's Long Island Rail Road (LIRR) has been deemed an essential service for health care workers, emergency responders, police officers, firefighters, city and state essential workers and countless other professions.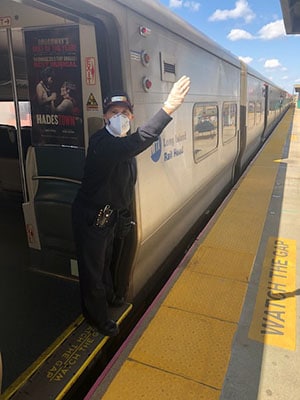 Here are some of the ways union leadership on Long Island and SMART members continue to deliver.
While required to continue working, tremendous safety efforts have been achieved through the issuance of proper Personal Protective Equipment (PPE), manpower manipulations to allow for social distancing, constant disinfecting efforts to protect work locations, paid administrative sick leave to accommodate the hundreds of positive tested members and associated quarantines, and so many additional safety precautions to protect workers.
Members have been working around the clock cleaning and sanitizing over 1,000 train cars on an aggressive schedule, and our maintenance of equipment workers are continuing to inspect and repair our equipment to all of the standards outlined by federal authorities.
Engineering forces in the track and building and bridge ranks are continuing to build and maintain the system during this health crisis. Huge projects such as the over $11 billion East Side Access project to allow service to New York City's Grand Central Station in addition to three other major city terminals continue. The mainline third track expansion continues along the central corridor of Long Island to add to the over 700 miles of track and 124 stations.
Front-line train crews are continuing to provide a modified essential service plan requiring flexibility, dedication and sacrifice working in vulnerable conditions. They are providing safe service and collecting whatever fares possible as safely as they can during the pandemic.
Union officials are providing administrative support to the varying work locations hit hardest by the virus to ensure crew dispatching, payroll and PPE issuance are all expedited appropriately.
After more than 60 COVID-19-related deaths at the MTA, the governing agency of the LIRR, SMART leadership has negotiated an additional $500,000 death benefit package to include health benefits for the beneficiary of any COVID-19 related deaths within our membership.
Union leadership has worked closely with agency heads and management to provide whatever benefits possible during this extremely troubling time, such as priority COVID testing, relaxed and paid sick leave rules, relaxed time keeping and travel arrangements, etc.
Union leadership is lobbying for additional federal funding needed to recoup billions of dollars of revenue lost during this crippling time.
General Chairperson Anthony Simon has worked closely with General Chairperson John McCloskey on the mechanical side in achieving protections and benefits for all SMART workers.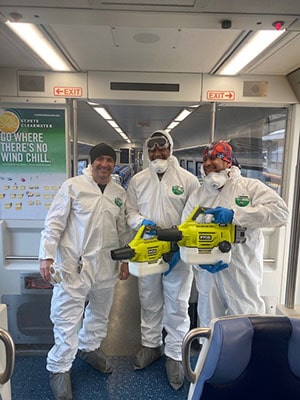 Those are some of the collective efforts of GCA-505 in Babylon, N.Y., which represents SMART-TD's workers on LIRR in a region hit hard by the coronavirus with tens of thousands of deaths reported there.
But the GCA's leaders insist it's just what they do, and what members expect from them.
"During catastrophic times is when leaders need to step up, lead and not hide," said Vice General Chairperson Vinnie Tessitore. "Under General Chairperson Anthony Simon's leadership, and through a dedicated team of union officials, we are out front making tough decisions and demands to secure and protect our workforce."
Simon, also a SMART-TD alternate vice president, said it has taken a total team effort and cooperation from all to continue to endure the challenges of the coronavirus.
"I could not be prouder of our elected union officials and our membership for their hard work and sacrifices during this pandemic," Simon said. "I am out in the field every day with our railroad family as they continue to work through this crisis, and my foot will remain on the gas to achieve what they have earned for their heroic efforts."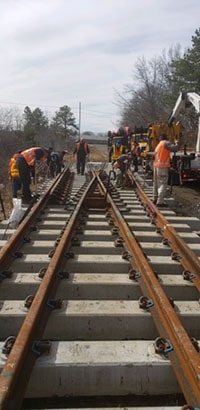 SMART Transportation Division President Jeremy Ferguson said that those efforts are shining through by protecting both employee and public alike and minimizing disruption.
"It's a relief to finally receive some good news! On a normal day and in normal times, SMART-TD's members and leadership in the New York City/New Jersey area have demands placed on them that often can exceed those of other metropolitan areas just because of the size of the agencies we serve and the population, but as always, our SMART-TD membership and our officers on the LIRR never cease to amaze me." Ferguson said. "They are the toughest and most resilient Brotherhood that, I, too, am so very proud to have the opportunity to work with and represent as President of the Transportation Division. SMART-TD on the LIRR is leading the way on every front and thankfully giving the membership a solid footing to defend themselves from this disaster.
"Anthony Simon and Vinnie Tessitore have stepped up to make sure LIRR keeps trains clean and running for public and the workers alike so that what is considered 'essential' stays running. They're an example of what solidarity can do — for all of labor to see. I do want everyone to know we're with you in this, and we will all be there together to the end."