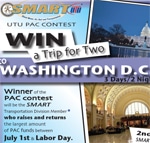 The SMART Transportation Division's Legislative Office in Washington has announced a contest for SMART TD members, with a three-day, two-night, all-expenses-paid trip to our nation's capital as the grand prize.
The SMART TD member who raises and returns the largest amount of UTU PAC fund contributions between July 1 and Labor Day (Sept. 2) will receive the trip, which includes: two round-trip airline tickets to Washington D.C.; two night's lodging; a special tour of the U.S. Capitol, the Supreme Court and Union Station; access to the Smithsonian and other museums; dinner with the National Legislative Office leadership; SmarTrip METRO passes, and a Congressional office visit with members of Congress.
Second prize is a SMART TD watch.
To enter, members must notify the National Legislative Office at (202) 543-7714 or at the PAC table at the SMART Transportation Division regional meetings that they want to participate in the UTU PAC contest. Members must be registered to win.
To win, participants must raise and return the largest amount of UTU PAC fund contributions by getting as many members as possible to join UTU PAC or to upgrade their current UTU PAC contribution level prior to Labor Day 2013.
The minimum individual contributions to count for a member's UTU PAC tally is $10 per month. PAC forms must be returned to the International Offices in North Olmsted, Ohio, prior to Labor Day. Business reply return envelopes will be supplied to all participants. Winners will be contacted by the National Legislative Office.
State legislative directors and International officers are not eligible to win.
See this flyer for additional details.