A pair of tours has been finalized on June 30 and July 1 for attendees of the 2019 SMART Transportation Division Regional Meeting in San Diego.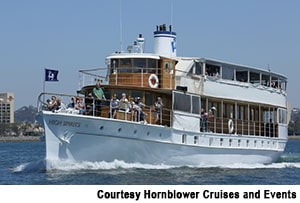 Day 1 (June 30): High Spirits Hornblower yacht luncheon/tour: Attendees will be picked up at the hotel dock at 9:45 a.m. to enjoy sightseeing on San Diego Bay with a professionally narrated harbor tour. More than 50 historic landmarks are covered by the 13-mile Big Bay cruise. Attendees will enjoy lunch on board and see marine animals and majestic sea birds on High Spirits, which was originally constructed as a sister ship to President Franklin D. Roosevelt's presidential yacht, the Sequoia. Attendees will arrive back at the dock at 1 p.m., giving them time to spare to visit Seaport Village, which is within walking distance, before the Regional Meeting's opening reception Sunday evening.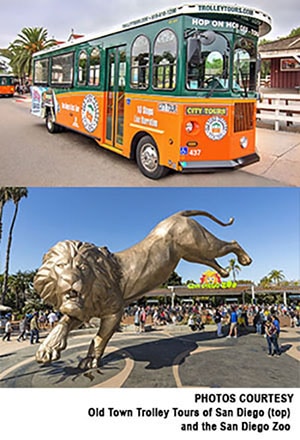 Day 2 (July 1): Old Time Trolley ride and visit to the San Diego Zoo: Attendees will take a trolley from the Hilton Bayfront Hotel at 8:45 a.m. and travel to the world-renowned San Diego Zoo, home to thousands of exotic animals. Guided bus tours of the 100-acre zoo will allow visitors the chance to encounter the zoo's more than 3,500 rare and endangered animals representing more than 650 species and subspecies and its prominent botanical collection with more than 700,000 exotic plants. A slate of wildlife shows and an airborne shortcut over the treetops will give visitors an unforgettable experience as they encounter the zoo's animal and plant collection and surrounding Balboa Park. Lunch vouchers provided on the tour will allow attendees to customize their visit to their interests, and the tour group will return to the hotel at about 3:30 p.m.
Tour costs are $35 per person for registered guests of the regional meeting and $75 per person for guests who are not registered for the regional meeting. Follow this link to register online or you can download a fillable PDF version of the regional meeting registration form and mail in your registration.
Additional information and tickets to the tours will be distributed during on-site registration at the Hilton Bayfront Hotel, noon to 4 p.m., Saturday, June 29, or 7 a.m. to 5 p.m., Sunday, June 30.