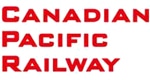 Canadian Pacific Railway Ltd. began operating a reduced freight schedule run by its managers on Feb. 15, after talks on a new contract broke down and more than 3,000 train engineers and conductors walked off the job.
Canada's No. 2 railway and the Teamsters Canada Rail Conference failed to agree on terms including on scheduling and rest time. The railway reached a deal with a second union, Unifor, which represents safety and maintenance workers.
Read the complete story at Reuters.