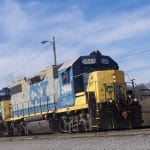 TAMPA, Fla. — Is the solution to the Tampa Bay area's mass transit woes already crisscrossing Hillsborough, Pasco and Pinellas counties?
That's a question local planners will begin considering in the weeks and likely years to come as Jacksonville-based CSX Corp. considers selling off two rail lines that could conceivably be operated as commuter routes.
CSX floated the sale of 96 miles of track at a recent meeting of the Tampa Bay Transportation Management Area Leadership Group, which includes three elected officials each from the three counties' Metropolitan Planning Organizations and sets regional transportation priorities.
Read more from The Tampa Tribune.