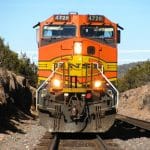 A noisy yellow machine laying down railroad track near Alva, Oklahoma — as much as a mile a day of concrete and steel — is Warren Buffett's solution to the industry's dwindling coal traffic.
After this year, Fort Worth-based BNSF Railway will be more than 99 percent finished with a second, parallel line to its 2,200-mile Los Angeles-to-Chicago route. Doubling up will create a rail superhighway speeding deliveries of toys, electronics, autos and other goods, because trains won't have to yield to each other on sidings as they do on single tracks.
The goal: help the unit of Buffett's Berkshire Hathaway, which owns BNSF, grab cargo now going by road.