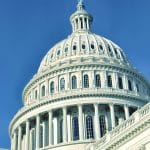 WASHINGTON — Committee on Transportation and Infrastructure Chairman Bill Shuster (R-Pa.) and ranking member Nick J. Rahall II (D-W. Va.) April 16 announced the members of a special panel tasked with examining the current state of freight transportation in the United States and how improving freight transportation can strengthen the U.S. economy.
The full committee's Vice Chairman, Rep. John J. Duncan Jr. (R-Tenn.), will chair the "Panel on 21st Century Freight Transportation." Rep. Jerrold Nadler (D-N.Y.) will serve as the panel's ranking member. By the rules of the committee adopted at the beginning of the Congress, the special panel will serve for a period of six months, beginning with its first scheduled hearing on April 24, 2013.
The Republican members of the panel are: John J. Duncan Jr., Tenn., chairman; Gary Miller, Calif.; Rick Crawford, Ark.; Richard Hanna, N.Y.; Daniel Webster, Fla.; and Markwayne Mullin, Okla.
The Democratic members of the panel are: Jerrold Nadler, N.Y., ranking member; Corrine Brown, Fla.; Daniel Lipinski, Ill.; Albio Sires, N.J. and Janice Hahn, Calif.
"Given that freight transportation cuts across many modes, this panel will play a critical role in providing recommendations on how to improve the efficient movement of goods between highways, ports, inland waterways, railroads, air carriers, and pipelines," said Chairman Shuster. "I am confident Chairman Duncan and the members of the panel will provide the committee with valuable insights for the improvement of freight transportation and our nation's economy."
"Almost all manner of goods sold or produced in this country take a ride on our rails, pass through our ports, wind down our waterways, or travel our highways," said ranking member Rahall. "The smooth movement of cargo across all these modes of transportation is essential in keeping our economy moving which is why this panel's task of improving the efficiency of our interconnected freight network takes on such importance."
"In the past, the conversation about freight transportation and goods movement has focused only on one specific mode of transportation or another," said Rep. Duncan, the new panel's chairman. "But freight doesn't move just by ship, or by rail car, or by truck. Chances are the goods you buy at the store got on the shelves thanks to all those methods of transportation. Bottlenecks during any leg of that journey from the manufacturer to the market drive up costs. That's why improving the flow of freight across all modes of transportation is so critical to a healthy economy."
"The movement of freight is one of the most critical transportation questions for the 21st century," said Rep. Nadler. "How we prioritize, invest, and develop freight infrastructure will have considerable bearing on how our economy grows, how we compete on the world stage, and how we create a sustainable and environmentally clean future at home. I look forward to working with Chairman Duncan and my other colleagues on this important panel to give freight movement the attention it deserves."