Members of Local 23 in Santa Cruz, Calif., are mourning the passing of Transportation Division retiree Domingo Tovar on April 14 from COVID-19.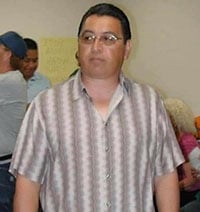 Brother Tovar, 68, served two stints with Santa Cruz Metro as a bus operator starting in 1982, then leaving for another carrier before returning to Santa Cruz in 1987. He was involved in the initial contract talks with the carrier as well as a 37-day strike against in 2005.
He served a year as secretary and treasurer for Local 23.
"He had many friends. He was a happy person," said retired Local 23 member Serena Tovar, Brother Tovar's wife of more than 43 years and a 30-year SMART-TD member. "Domingo remained the same type of person the day she met him to the day he passed. He was always happy. He just loved life and had no regrets. He was very proud of his kids and was always there for his family."
Brother Tovar retired in 2016 after 29 years of continuous union service. Transportation was in his blood, though — he had begun driving at age 25, had driven charter buses and had even obtained his pilot's license. After his Santa Cruz Metro retirement, he kept working as a shuttle bus driver for the University of California — Santa Cruz until his passing.
He was remembered fondly by Local 23 brother Mario Espinoza.
"I could confide in Domingo about any issue and l knew that what we talked about always stayed between us," said Espinoza, who worked alongside Brother Tovar for years. "Domingo was someone you could trust."
Brother Espinoza said that his and Brother Tovar's families became close over the years as they continued to work together and that Domingo was generous with his time and his technical expertise that bailed out co-workers many times.
"He was very helpful with a number of drivers that had problems with their computers, phones or any electronic device. He would solve the issue in no time or give you advice on resolving the issue," Espinoza said. "He never wanted anything in return. His satisfaction was you being happy your problem was solved.
"He was just beginning to enjoy his retirement when this virus took his life. I am still in shock and can't comprehend this and will take some time to cope with this," Espinoza said. "So with a heavy heart l say, Domingo, you will be missed. Rest in peace, brother."
In addition to his wife, Serena, Brother Tovar is survived by a daughter, Mandy; son, Damien; and two grandchildren — Damien and Sasha Tovar Page.