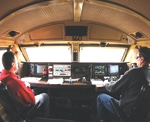 Legislation to protect communities along rail lines and railroad workers by requiring trains and light engines carrying freight within California to be operated with an adequate crew size received support from the State Assembly with a 51-28 vote.
The bill, authored by Sen. Lois Wolk, D-Solano, now goes to Governor Jerry Brown (D).
"Today's freight trains carry extremely dangerous materials, including Bakken crude oil, ethanol, anhydrous ammonia, liquefied petroleum gas, and acids that may pose significant health and safety risks to communities and our environment in the case of an accident," Wolk said. "With more than 5,000 miles of railroad track that crisscrosses the state through wilderness and urban areas, the potential for derailment or other accidents containing these materials is an ever present danger. I urge the governor to sign this bill into law, providing greater protection to communities located along rail lines in California, and to railroad workers."
Read more from Times-Herald News.