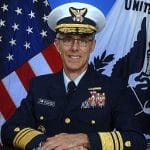 WASHINGTON –  The Senate voted on Monday, June 22, to confirm a new leader for the Transportation Security Administration in the wake of reports of startling security gaps at U.S. airports.
Coast Guard Vice Adm. Peter Neffenger was confirmed as the agency's new administrator by a vote of 81-1. Neffenger was nominated by President Barack Obama in April, before revelations that auditors for the Homeland Security Department's inspector general were repeatedly able to sneak mock explosives and weapons through security checkpoints.
"Vice Adm. Neffenger will certainly have a tough job ahead of him. We're all aware of the recent inspector general report that questioned the TSA's ability to meet its security mission without change," Majority Leader Mitch McConnell, R-Ky., said on the Senate floor ahead of the vote.
Read more from Fox News.