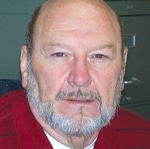 Former Norfolk Southern General Chairperson Paul E. Emert, 65, died Nov. 11 following a heart attack.
Emert, a member of SMART Transportation Division Local 750 at Knoxville, Tenn., retired in 2011 following 39 years of railroad service.
He had served as general chairperson of NS General Committee of Adjustment GO 898 since 2002 and had also served his local as chairperson, secretary and treasurer and delegate.
Prior to his railroad service, Emert was honorably discharged from the U.S. Army. He was a deacon at Riverview Missionary Baptist Church for 37 years.
He is survived by his wife of 46 years, Vickie; daughter and son-in-law, April and Rusty Turbyfill; son, Jed Emert and friend Angie Thompson; son and daughter-in-law, Justin and Kimberly Emert, and 10 grandchildren.
The family will receive friends Nov. 14 at 5 p.m. at Miller Funeral Home's Magnolia Chapel, located at 915 W. Broadway Ave. in Maryville, Tenn. Funeral services will be held following the visitation at 7 p.m.
Family and friends will gather at 1 p.m. Friday, Nov. 15, at Clarks Grove Cemetery for the interment.