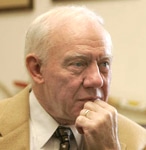 WASHINGTON – A great friend of organized labor and a leader of transportation infrastructure reformation, former U.S. Rep. Jim Oberstar, died Saturday, May 3.
Oberstar, 79, was the former chairperson of the House of Representatives' Transportation and Infrastructure Committee and was Minnesota's longest-serving congressman.
He was instrumental in securing the commuter rail system in the Twin Cities and had a reputation as an expert in public works and transportation issues.
"He was the leading infrastructure expert of our time," said former Republican congressman from Minnesota, Vin Weber.
"Jim Oberstar was not only a champion of workers in his district and all over Minnesota, he was a true advocate for all transportation employees in this country and cared about their safety on the job. We lost a real giant among men," SMART Transportation Division President John Previsich said.
"His impacts are almost indescribable," said former Minnesota State House Majority Leader Tony Sertich of the Minnesota Democratic Farmer Labor Party. "You can't travel down a road, or a bridge, or an airport or a trail in northeastern Minnesota without his fingerprint on it."
"Workers everywhere lost a true friend. Mr. Oberstar not only took the time and energy to learn about worker issues, he really cared about their health and safety. We also cannot ever forget that our Railroad Retirement Reform Act would not have become law without his strong advocacy," SMART Transportation Division National Legislative Director James Stem said.
U.S. Senator Al Franken made the following statement upon learning of the death of Oberstar:
"By the time Jim rose to Chairman of the House Transportation Committee, he knew more about transportation than anyone in this country. The first time I saw Jim in action as Chairman, he was presiding over a hearing on high speed rail with witnesses from Japan and France, and several other countries, all of which – to our shame – are far ahead of us in high speed rail.
"When it came time for the Chairman to ask his questions, I learned that Jim had piloted every one of these high speed trains, and Jim questioned the French witness in his own language in startlingly fluent French. It was a tour de force. I think that's French.
"If Jim were asked to write this himself, he'd somehow segue to the history of infrastructure in this country, from the Erie Canal to rural broadband, then circle back to the Roman aqueducts and the use of slaves to build them and then move into a history of the labor movement, of which he was a fierce champion.
"Franni and I will miss Jim. We know all of you will as well. And we all are better people for having known him. And the Eighth District is a much, much better place for his service."
Read Oberstar's complete obituary here.