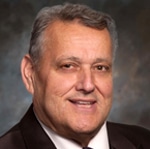 Thanks to all of the delegates, members, guests and staff that made the First SMART General Convention a resounding success.
I have been involved in this union for 45 years. There has never been a more outspoken, honest, and hardworking General Executive Council than the one we have now. They do what is right for this membership. They make this union. It also helps having a great partner, a general secretary-treasurer who has your back and who makes you proud every day. Joe Sellers is a great leader.
We are now one union. I know that some differences of opinion among the membership remain as in any democratic organization that respects the right of each and every member to speak freely. I will always continue to encourage discussion, debate and your input on where we go in the future.
As I told the convention delegation, we are going to fight some, and we are going to bleed some. But in the end, we'll all bleed the same blood.
We closed the convention on Aug. 15 as one union. We are not divided and we will not let anything divide us. A house divided will fall and we will never go that way. We have a combined legacy of 270 years. We must build on what previous generations have passed to us by furthering our mission to make this union even stronger in servicing our members.
I am telling you what I told the assembled delegates at the convention. All business managers, business agents, general chairpersons and local chairpersons must realize that service to the membership must come first. Whether they are representing airline, rail, transportation or sheet metal members, our leaders must continue their duty to represent the membership to the best of their ability.
This union's leadership will not tolerate anyone who doesn't represent their members. You don't have to like Joe Nigro, but you do have to like and work for your membership.
Through education, strength and unity, we will fulfill our mission to make SMART the strongest union in North America.
As I noted in my column here last month, I was never as proud of our members as I was to see our sheet metal brothers and sisters standing shoulder to shoulder with our transportation membership at a rally held by employees on the Long Island Rail Road.
It was outstanding to see sheet metal workers and transportation workers getting together and fighting together on behalf of their brothers and sisters. When I walked into that parking lot with more than 3,000 people, I was so proud.
Our membership was successful in obtaining a fair agreement with the New York Metropolitan Transportation Authority and I congratulate LIRR GO 505 General Chairperson Anthony Simon and his leadership team for that outstanding effort.
We departed our first SMART convention renewed, stronger and united. We will continue to forge a new future with the dignity, integrity and the honor that went into building this great union. To read and view coverage from the First SMART General Convention, visit your union's website at smart-union.org.
It's all about our union, our members and our strength. Together, we are all SMART. 
Joseph J. Nigro
SMART?General President